Dear ladies, with the marvelous news of Princess Beatrice's wedding this weekend and the wonderfully romantic pictures that have recently been released from the private ceremony, I felt inspired to share my seven most timeless royal wedding dresses.
I found Princess Beatrice's choice of dress heartwarming and memorable. It must not have been easy to wed during a pandemic and to have only thirty people in attendance while maintaining social distancing. I am very impressed with how sensibly they have chosen to act during difficult circumstances.
But I digress, without further ado, here are my seven most timeless royal wedding dresses!
1. Princess Beatrice
Designer: Norman Hartnell (on loan from HM The Queen)
Details: "The dress is made from Peau De Soie taffeta in shades of ivory, trimmed with ivory duchesse satin, with organza sleeves. It is encrusted with diamanté and has a geometric checkered bodice. It was remodeled and fitted by Angela Kelly and Stewart Parvin.
Princess Beatrice wore the Queen Mary diamond fringe tiara, on loan from HM The Queen. The tiara was also worn by The Queen on Her Majesty's wedding day.
It was originally made for Queen Mary by Garrard and Co. in 1919, from a diamond necklace given by Queen Victoria for her wedding." (source: hellomagazine.com)
"Princess Beatrice chose an arrangement filled with trailing jasmine, pale pink and cream sweet peas, royal porcelain ivory spray roses, pink o'hara garden roses, pink wax flower and baby pink astilbe.
The bouquet even matched the floral archway constructed at the chapel door in honor of the big day. The princess also included sprigs of myrtle in her bouquet, a royal tradition that dates back to the 1858 wedding bouquet of Queen Victoria and Prince Albert's eldest daughter, also named Victoria.
Myrtle has become the emblem of matrimony within bridal bouquets and a sprig was included in the bouquets of Princess Eugenie, Duchess Kate, and even Queen Elizabeth. This bouquet was designed by Patrice Van Helden, co-owner of RVH Floral Design. RVH is no stranger to royal weddings, as they also crafted the flowers for Princess Eugenie's big day." (source:townandcountrymag.com)
2. Queen Letizia of Spain
Designer: Manuel Pertegaz
Details: "The bride's elegant dress was designed by 87-year-old Spanish couturier Manuel Pertegaz. Perhaps the most striking feature of the off-white silk dress was a high-standing collar. The collar, like the edging of the rest of the dress, was picked out with heavy white embroidery depicting the fleur de lys and ears of wheat – details from the Prince of Asturias crest.
Queen Letizia of Spain's bouquet elegantly combined Elizabethan roses, irises and lilies – all blooms that have been historically linked to husband King Felipe's Bourbon dynasty." (source: hellomagazine.com)
3. Princess Mary of Denmark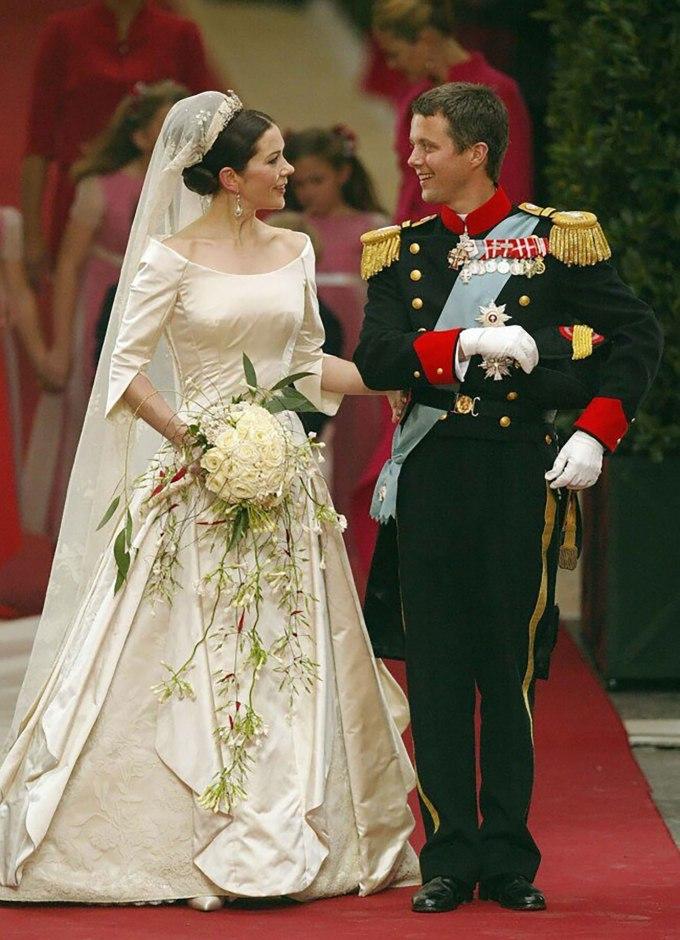 Designer: Uffe Frank
Details: "The future Princess looked breathtaking in a simple ivory gown by Danish fashion designer Uffe Frank, made of duchesse satin and featuring a 19ft train. The wedding look was finished off with a delicate antique lace veil once worn by Crown Princess Margareta of Sweden.
Princess Mary's bouquet as she wed Prince Frederik of Denmark was a dramatic cascade which featured antique roses, stephanotis, azaleas, spirea and, last but not least, eucalyptus flown in from Australia especially for the occasion, a nod to the bride's heritage." (source: hellomagazine.com)
4. Queen Maxima of the Netherlands
Designer: Valentino
Details: "The simple design consisted of a cowl neckline, three-quarter length sleeves, capped off by a five meter long train. The skirt of Maxima's dress had been inset with panels of embroidered lace and flared out from the sides from an empire-line bodice. Maxima paired her Valentino dress with the Dutch Pearl Button Tiara, a tiara with a long history in the Dutch Royal Family – the base of the tiara reportedly dates back to Queen Sophie, wife of King Willem III, in the 1800s. Her bouquet consisted of white roses, gardenia, lily of the valley, and greens." (source: royalcentral.co.uk)
5. Princess Eugenie
Designer: Peter Pilotto and Christopher de Vos.
Details: "The design of the dress features a neckline which folds around the shoulders and a flowing full-length train. The princess wanted a low back to the dress in order to show the scar from surgery she underwent aged 12 to correct scoliosis.
"I had always wanted a low back, part of it was showing my scar. I believe scars tell a story about your past and your future and it's a way of getting rid of a taboo." Princess Eugenie
The fabric of the dress, also designed by Mr Pilotto and Mr de Vos, includes a number of symbols that are meaningful to Princess Eugenie, such as the White Rose of York, interwoven with ivy.
Her Royal Highness wore the Greville Emerald Kokoshnik Tiara, which was lent to her by Her Majesty The Queen. Designed by Rob Van Helden Floral Design, the bouquet consisted of lily of the valley, stephanotis pips, baby-blue thistles, white spray roses, trailing ivy and sprigs of myrtle from Osborne House.
The myrtle bush at Osborne grew from a piece in the posy given to Queen Victoria by Prince Albert's grandmother the year that the royal couple bought the house on the Isle of Wight as a family retreat.
A sprig from the shrub was carried in the bridal bouquet of Queen Victoria's eldest daughter, Princess Victoria, at her wedding in 1858, and the tradition has been continued by royal brides ever since." (source: royal.uk)
6. Duchess of Cambridge
Designer: Sarah Burton at Alexander McQueen
Details: "Miss Catherine Middleton's Wedding Dress has been designed by Sarah Burton at Alexander McQueen. Miss Middleton chose British brand Alexander McQueen for the beauty of its craftsmanship and its respect for traditional workmanship and the technical construction of clothing. Miss Middleton wished for her dress to combine tradition and modernity with the artistic vision that characterises Alexander McQueen's work.
Miss Middleton worked closely with Sarah Burton in formulating the design of her dress. The dress is made with ivory and white satin gazar. The skirt echoes an opening flower, with white satin gazar arches and pleats. The train measures two metres 70 centimetres.
The ivory satin bodice, which is narrowed at the waist and padded at the hips, draws on the Victorian tradition of corsetry and is a hallmark of Alexander McQueen's designs. The back is finished with 58 gazar and organza covered buttons fastened by Rouleau loops. The underskirt is made of silk tulle trimmed with Cluny lace.
The bouquet is a shield-shaped wired bouquet of myrtle, lily-of-the-valley, sweet William and hyacinth. The bouquet was designed by Shane Connolly and draws on the traditions of flowers of significance for the Royal Family, the Middleton family and on the Language of Flowers.
The flowers' meanings in the bouquet are:
Lily-of-the-valley: Return of happiness
Sweet William: Gallantry
Hyacinth: Constancy of love
Ivy: Fidelity; marriage; wedded love; friendship; affection
Myrtle: the emblem of marriage; love." (source: www.royal.uk)
7. Princess Grace of Monaco
Designer: "The dress by Academy Award-winning costume designer Helen Rose, came as a gift from Metro-Goldwyn-Mayer to their famous star. Rose had also worked on Kelly's wardrobe for four of her films."
Details: "The studio's wardrobe department created the "fairy-princess" look piece by piece. The lace bodice also came with a slip, skirt support and under-bodice. Foundation, ruffled and smoothing petticoats went under the pleated silk faille skirt. Finally, a train insert and silk faille cummerbund completed the outfit.
Instead of an elaborate tiara, Grace Kelly opted for a Juliet cap to hold her veil in place. The headpiece included more pearls and lace, as well as a wreath of paper orange blossoms.
Seamstresses re-embroidered the antique Brussels lace on her bodice to hide any seams and add hundreds of seed pearls. Devout mid-20th century brides often carried a Bible instead of lots of flowers, according to the Philadelphia Museum of Art, the current home of Kelly's bridal outfit.
The actress received her book as a gift, and MGM then embellished it with silk, lace and pearls. Kelly carried both the missal and a small bunch of lilies of the valley on the big day." (source: www.goodhousekeeping.com)
---
What did you think of my 7 Timeless Royal Wedding Dresses? Which one is your favorite? Did any surprise you?
As always, I love to hear from you.
xoxo, Mrs. Hannover
P.S. In case you missed my Top Five Feminine Summer Essentials click here.